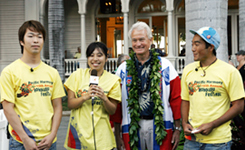 The 16th Annual Honolulu Festival hosted a collaboration project with Kapiolani Community College to bond relationships with the volunteers and local communities.
The students interviewed various people during the festival period. This was a great opportunity for them to directly hear each message about the next generation and to understand respective cultures as well as perspectives.
Also, this is a chance for the students to relearn their own country and culture. In addition, they streamed their interviews online to people around the world. We believe that the students were able to utilize the streaming technology and experience the cultural exchange.
---
Ms Marcella Foster
Alaska Native Heritage Center
Mr. Turnald
Visitor from Canada
Mike McCartney
The President and CEO, Hawaii Tourism Authority
Mr. Richard Yasukochi
Honolulu Daijayama
Interviewing an instructor from the group Setagaya Aloha
"Why hula dance?"