National Living Treasure of Japan, Sanshin Master
Interviewed by Arlynne Hurley
I had the opportunity to interview Mr. Choichi Terukina, who is the founder and leader of Ryukyu Koten Afuso-ryu Ongaku Kenkyuu Choichi Kai. He was also recognized as a National Living Treasure of Japan in 2000. Also, Ryukyu Koten Afuso-ryu Ongaku Kenkyuu Choichi Kai Hawaii is the first group of classical Okinawan music that was created outside Okinawa. The number of members has grown steadily over the years which consist of 60 members today.
Mr. Terukina made a visit to Hawaii because of Choichi Terukina Day on March 27 which was established by the city of Honolulu. In addition, the Hawaii Okinawa Center 20th Anniversary Charity Performance called "To-be! Uta-Sanshin" was held for the Hawaii United Okinawa Association.
Upon interviewing Mr. Terukina, I wanted to learn more about his background. As I was doing my research, I thought of my own roots of Okinawan. My father is a second generation and my grandfather came from Okinawa to Hawaii during the beginning of 1900's. He used to work at the sugarcane plantation. Also, I used to live in Okinawa for 4 years during my childhood which my parents encouraged me to learn the Okinawan dance. A beautiful kimono, the timbre of the sanshin, the sound of drums and a graceful dance… Everything was wonderful in which I loved to dance. The Okinawan music makes me feel relaxed to this day.
In addition, my father was selected for the Rookie of the Year Award called "Nomura-ryu Koten Sanshin Shinjin-sho" out of 180 nominees in 1988. He spent his later life as a teacher of the sanshin in Okinawa.
This interview opportunity with Mr. Terukina helped me to recall my wonderful memories. On the day of the interview, I showed my childhood's dancing photo and pressing clip of my father to Mr. Terukina during the self-introduction, which he was very pleased. As a result, I felt like our distance became much closer.
The topic for the interview was related to the sub-theme of the 16th Annual Honolulu Festival "Discovery Through Tradition". It was a great pleasure to interview Mr. Terukina, who is a leader that is recognized as a National Living Treasure of Japan. He continues to preserve and pass down the classical Okinawan music which has a history of over 400 years.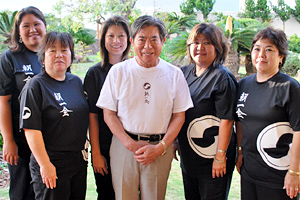 Mr. Terukina started playing the sanshin when he was 6 years old. He used to play the Japanese children's song such as Hato-Po-Po and Usagi-to-Kame which he played in his own style. Also, his grandfather praised his skill which motivated Mr. Terukina to pursue the life of sanshin. In addition, he performed the sanshin and dance at the local talent show every year during his teens.
Furthermore, Mr. Terukina first discovered the classical Okinawan music through his older brother, who was looking up to the leader of Afuso-ryu named Mr. Haruki Miyazato as a mentor. But until then, he thought that he was trained enough to play the sanshin however, when he was fascinated by the Okinawan classical music, he started learning under Mr. Miyazato which was 50 years ago.
I asked when did Mr. Terukina decided to preserve and pass down the classical Okinawan music. He answered that there was his "this is it" moment when he first visited to Hawaii during the mid-1960's which he used to work at the Northwest Airlines as a mechanic for many years. One day, he visited Minneapolis when he was traveling around the world to study about the jumbo jet's engine. During this period, Okinawa was under the rule of the U.S., which the passport of Ryukyuu was issued for the citizens. Mr. Terukina decided to bring his sanshin upon his travel so that he can prove that he came from Okinawa even if he lost his passport.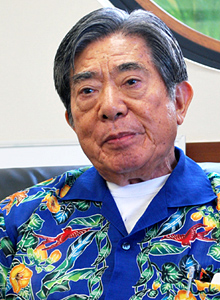 Furthermore, after his return from traveling to Minneapolis, Miami and Los Angeles, he had a strong desire to visit Hawaii even if it costs his entire fortune. Mr. Terukina was able to afford one way ticket however, he was planning to borrow money from his cousin in Hawaii for a return ticket. Finally, he went on a flight to Hawaii with his friend.
The first place that Mr. Terukina visited was the local TV station called KIKU TV. He performed his sanshin on the Okinawa TV program and then he toured the islands. When he returned back to his hotel, he was invited to the party where 300 Okinawans in Hawaii gathered to give a warm welcome to Mr. Terukina. Also, he received a lot of gift money from them.
In addition, every first and second generation Okinawan was in tears which reminded of their hometown back in Okinawa via beautiful sound of Okinawan music. This was the moment that Mr. Terukina decided to preserve and pass down the tradition of Okinawan music.
When Mr. Terukina returned to Okinawa, he was wearing 2 hats as a mechanic and as a musician in which he had a busy life. He started his own enterprise as ground handling services for Naha Airport. Also, he used to teach the sanshin until he was 68 years old.
Also, Mr. Terukina said that he wants to foster the youth to become an excellent performer in the Okinawan traditional arts. Therefore, he started a youth program called "To-be! Uta-Sanshin" which has been almost 19 years. Mr. Terukina said "If you start learning the traditional arts from an early age, it is easy to resume even if you decided to quit for a while. It is great if you can pursue your learning but you shouldn't force yourself. The young are fast learners and they acquire "skill". When they get older, their skill will become a hobby. Hence, it is better to start learning the traditional arts from an early age." Then he continued, "I believe that the sanshin will exist forever. It is natural-made musical instrument unlike the piano which is made artificially. Also, it can be played just by the 3 strings which match the voice. This is why the music and sanshin can be as one. The Okinawan music is older than the western music. Despite of it, the Okinawan music did not spread as much as it did because there was no school that teaches it. My school is for free, but it is very difficult and you must study very hard."
Nowadays, the Okinawan performing arts is well known in Japan. Also, the Eisa drum began to be popular around the world.
Furthermore, Mr. Terukina taught me a Japanese proverb "Gei-wa-mi-wo-tasuku (Arts brings bread)" during the interview. It means that your acquired skill and talent can help yourself to understand others. Mr. Terukina is feeling blessed about having his skill.
Message to the Okinawans in Hawaii from Mr. Choichi Terukina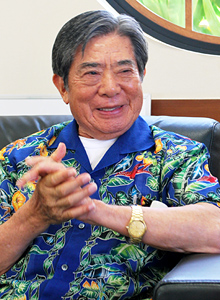 "A lot of first generation Okinawans that came to Hawaii for work at the sugarcane plantation endured many hardships. They believed that they can make a fortune in Hawaii, so they worked hard and raised their children with proper education. It can be said that the education is very important. Also, first and second generation Okinawans were worried for Okinawa during World War II. They sent pigs and goats in hoping for immediate recovery, which the people in Okinawa were very grateful. Later on, the Hawaii Okinawa Center was established to continue the relationship between Hawaii and Okinawa. I would like to say "Otsukaresamadeshita, arigatou(Thank you very much for all your hard work)" to first and second generation Okinawans. Also, I would like to continue teaching the culture of Okinawa to third and fourth generation in the future."
The relationship between Mr. Terukina and Hawaii has been over 40 years. Mr. Terukina loves the people of Hawaii in which he listens to Hawaiian music as well. He chuckled and said "Aloha Oe is so so."
Mr. Terukina went to prepare for his performance after the interview. He performed with his 2 sons and grandson.
I felt proud of my heritage as Okinawan through interviewing Mr. Terukina. I hope that his schools will be successful around the world.