The 17th Annual Honolulu Festival was held for 3-days from Friday, March 11 through Sunday, March 13, 2011. The Educational School Tour was the first event, where the local schools were invited. It was held at 9:00 a.m. at the Hawaii Convention Center.
Nearly 1000 students were expected to attend which is more than last year. Unfortunately, many of the schools got canceled due to the tsunami warning that was affected by the Great East Japan Earthquake which had occurred the night before the festival. The tsunami warning was issued after the disaster and it prolonged until the next morning at 7:30 a.m. At the same time, some of the schools were still able to attend the Educational School Tour.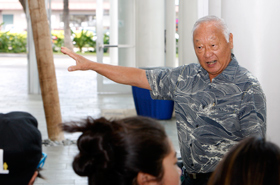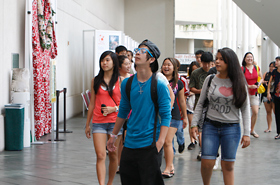 The students were introduced to the Japanese mikoshi (portable shrine) used in the Japanese festivals. They also got to see a cart of the Daija used in the Daijayama of Omuta City in Fukuoka Prefecture. Currently, its head is used by the Honolulu Daijayama.
Furthermore, the members of the Free Guide Club at Kyoto University of Foreign Studies introduced about the famous shrines in Japan such as "Kinkaku-ji" and "Kiyomizu-dera". They also introduced "omikuji" which are fortunes written on strips of paper at the Japanese shrines. The students had an opportunity to draw them, which the members of the Free Guide Club explained what was printed.
In addition, the students watched the traditional Taiwanese dance and Australian Aboriginal dance. Also, they challenged making hachimaki (headbands) and origami (paper-folding), which those crafts were taken home by them.