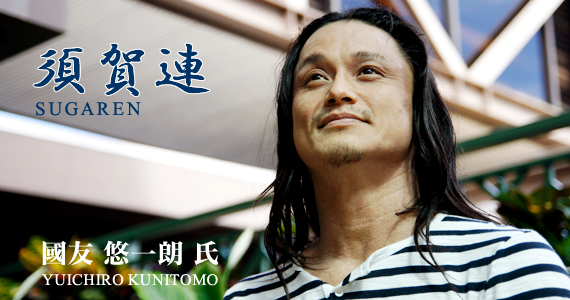 The founder of Sugaren, Suga Kunitomo had passed away on June of 2011. We would like to give our appreciation for her annual appearances at the Honolulu Festival and we would like to offer our deepest sympathy to her and her family.
Sugaizaniren is a group that has been participating since our first Honolulu Festival back in 1995. Many of the visitors are anticipated to see the yosakoi dance every year.
Yuichiro Kunitomo, who is a son of Suga Kunitomo became a new representative of Sugaren. We had an opportunity to interview him about his mother and his recent feelings.
The message behind Suga Kunitomo's shouted "ARIGATOU (THANK YOU)" on the stage
When you dance, you will eventually become stress free and energized. Also, you can open up your minds through dancing. When we see the audience being impressed by our performance, we receive their positive energy as well which makes us feel moved. My mother thought that this exchange of inspiration has a significant power to make the world a better place. My mother often said "We should be grateful for the fact that we can give inspiration and be inspired at the same time through our dance to make the world a better place". Her goal was for everybody to enjoy watching our dance and spread the happiness. Also, she often closed the show with "Thank you very much! We are pleased if everybody can enjoy watching our dance".
My mother was already given a life expectancy of 2 months by the time she joined the last year's Honolulu Festival. Despite of her poor condition, she was still willing to participate. This is because Hawaii is a state where the tourists from around the world would come and visit, which is a great place to show our best dance as being Japanese. My mother thought that if we passionately put our effort into our performance, then the audience may discover our true Japanese spirit and share their experience when they returned to their countries…
We don't boast about our skills and show off our dance saying "I'm great" or "I'm fantastic". Instead we dance with a feeling of gratefulness that we are able to stand up on the stage. We can play our role as performers only because of our audience and all the staffs that were involved in setting up our stage and the festival.
My mother's motivation was to create a better world or "Iiyosakoi" (let's hope for a bright tomorrow)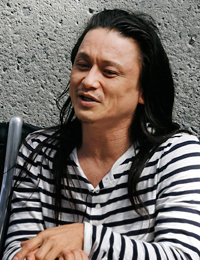 Her initial plan was to take a treatment for a while in Maui after the Honolulu Festival. However, she returned to Japan after the Great East Japan Earthquake had occurred. I tried to stop her but she explained "Even if I have a cancer, I can still contribute to something. I'm sure half of the people in Japan are suffering now. I've been performing "Iiyosakoi" in hoping to create a better world and that is my motivation. That's why I'm going back to Japan".
Aasahi City, Chiba Prefecture, where there's our dance studio was also devastated by the tsunami. My mother volunteered as a leader of the soup kitchen for a month. She collected relief goods and raised funds to cook and serve the food. Also, she was in charge of creating a food menu. To be honest, I wanted her to quit that job concerning about her health as being that I'm her son. But at the same time, I felt proud of her. Her body was gaunt yet she looked happy and joyful for the fact that she can give her hospitality to others. In her last moment, I told her that "I was blessed that I'm your son" and "I love you". She was gone as she nodded her head and looked me in my eyes.
Succession as a leader of Sugaren…
It is undeniable that there is a pressure in taking over my mother's legacy being that she was well-known as a "mother of Japan's contemporary yosakoi". However, she never gave up to meet her goal. Her lifestyle inspired me to do the same which I feel like "Do it! Just Do it!"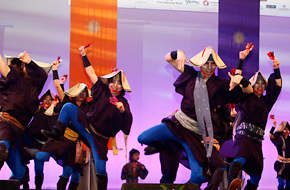 So much has happened in the last 8 months. But I feel blessed to be back in Honolulu and I was happy that everybody was able to enjoy our performance.
We decided to select the dance that my mother performed at the first Honolulu Festival back in 1995. At that time, she brought 80 of Japanese dancers to Hawaii which we had danced with 40 dancers from Maui. Our dance this year was dedicated to my mother Suga as a commemoration.
I thought this year will be our last performance at the Honolulu Festival because our participation started off with Suga's idea. However, wherever we performed, people introduced about Suga. Each MC shared their stories about Suga. Some mentioned that Sugaren is necessary for the Honolulu Festival and some mentioned that we always boost the festival. The words of encouragements were also given by the Mayor and the governor of Honolulu which were greatly appreciated. As of now, I'm determined to carry the torch of Suga.
Also, every one of our members adores Suga and her dance which is the reason that they perform the yosakoi izanai. I felt truly blessed when the members told me "We will continue to dance as if nothing has changed since Suga's spirit and her will are still within Mr. Yuichiro".
Shinnosuke Kunitomo is my younger brother and my only sibling that worked together through good times and bad times. We will continue our career by incorporating both of our skills to do what is necessary for Sugaren. Also, I'm surrounded by my wife and wonderful family-like staffs. Each of our members will be committed to play their role and work as a team to foster our Sugaren into the next level.
Yosakoi dance is for everybody regardless of one's age and gender
My mother was criticized for introducing a contemporary version of traditional yosakoi dance in Kochi Prefecture 30 years ago. The general public told her that she ruined the Japanese tradition and denied the spread of the yosakoi dance in Japan because during this period, it was only danced at the summer festivals in Kochi Prefecture. However, my mother still believe that dancing is a form of culture that can be spread all over the world which she chose the yosakoi dance as her possibility. From that moment and on, Suga incorporated the message of "making the world a better place" and kept on inspiring others.
Nowadays we got different forms of the yosakoi dance such as "yosakoi oiwake" "yosakoi danjiri" and "nebuta yosakoi" which are combined with various elements of Japanese summer festivals that exist all over Japan.
One of the great things about the yosakoi dance is that it is not a win or lose competition. Rather, it is a form of dance that can be enjoyed by everybody regardless of one's age or gender which is a concept that my mother had cherished.
Ever since we started, the feeling of "wa (harmony)" is our foundation for everybody to enjoy our performance, which we incorporate recent trends on our costume and music.
I believe that if you persist on clinging to traditions, then they will only be for the locals. But if you learn to adapt different cultures and arts from all over the world, then the Japanese traditional arts will be spread.
Also, I'm thinking of collaborating with some of the Japanese artists from the field such as the taiko performers and musicians that I respect. I want to create a theme of "Japan" and do something with them.
For instance, in the book of Kojiki, there is an episode where people feared a total solar eclipse, so they held a festival and start singing and dancing until the eclipse ended. This kind of anecdote can be related in the history of Maya civilization, Native Americans and other civilizations throughout the world. I want to emphasize that "We are ONE" through modernizing such historical events and incorporating them into our yosakoi dance.
Plans for the next year's Honolulu Festival
We are affiliated with the dancers from Maui, which there were 20 of them this year and we are planning to participate every year at the Honolulu Festival. I think there will be more dancers from Maui next year. Also, some of the people were motivated to dance and create our Honolulu branch through watching our performance and listening to the vision of Suga Kunitomo.
We have participated in all 18 Honolulu Festival and we would like to preserve this tradition in the future. We feel blessed to be given such opportunity to enjoy the festival with everyone.
Thank you for all the support!