2 years has passed since the Great East Japan Earthquake, yet there are many who still living in the shelters. The Honolulu Festival hosted the events in remembrance of those victims and for the recovery of East Japan.
The Great East Japan Earthquake Photo Exibition by Masamitsu Nagashima was held for 2-days on Saturday, March 2 and Sunday, March 3. Also, the road environmental planner named Mamiko Akutagawa, who she visited around the devastated areas hosted a public talk called "Rebuilding begins on the road- Story Behind the Camera" with Misamitsu on Saturday. They talked about how they reported on the aftermath of the earthquake and what was done to send relief supplies to the victims as quickly as possible. Also, they mentioned the importance of the roads and how they are crucial in our lives. It is true that we carelessly take our environment for granted where the natural disaster can occur and destroy in a split second.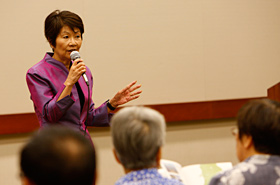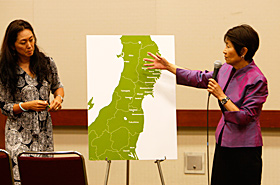 Furthermore, a symposium titled "3/11 Tsunami Debris: Japan-U.S. Collaborative Effort" was held on Saturday, March 2. A lot of guests were interested in this topic, which all the seats were nearly full even though it was located in a secluded room of the Hawaii Convention Center. Many professionals from various fields have gathered and discussed the problems of the floating debris that reached from Japan to Hawaii. Also, they discussed the impact on the environment in the Pacific Rims. Each professional presented their perspective and elaborated on how Japan and the U.S. can collaborate with each other to save and restore the environment.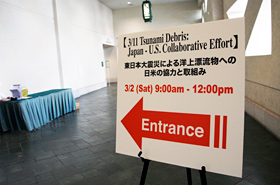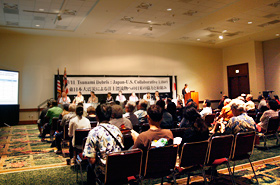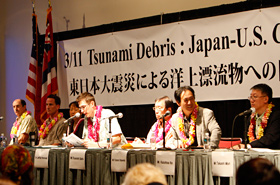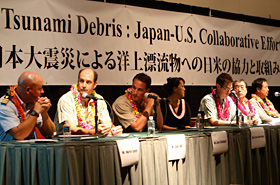 Moreover, the disaster relief fund was set up for the victims of the Great East Japan Earthquake and also there was an exhibition of crafts from Tohoku area. In addition, there was a film screening of LIGHT UP NIPPON which is a documentary that focuses on the project of the thousands fireworks that were launched simultaneously at 10 locations of the devastated areas to commemorate the victims and for the recovery of Japan.
We will continue to support those who are striving for recovery from the Great East Japan Earthquake.