The Honolulu Festival is a 3 day event which will be held on March 11th through 13th around Waikiki and Ala Moana.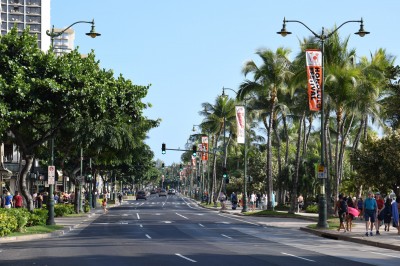 There were many of our flags hanged on the streetlights of Kalakaua Avenue. They were blown in the breezing winds under the sunlight of Hawaii.
This year's theme of the Honolulu Festival was "Cultural Harmony, Journey to Peace".
The musical, Peace On Your Wings is an emotional story which everybody should be aware of when we discuss about peace.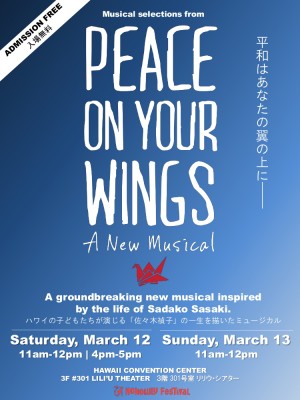 Have you ever heard about the life of Sadako Sasaki?
Peace On Your Wings
The Children's Peace Monument is a place for peace to commemorate Sadako Sasaki which is located in Hiroshima Peace Memorial Park. Sadako was exposed to the radiation from the atomic bomb and later she had developed leukemia. She folded cranes in hoping to live but lost her life at the age of 12. The musical Peace On Your Wings focuses on the life of Sadako.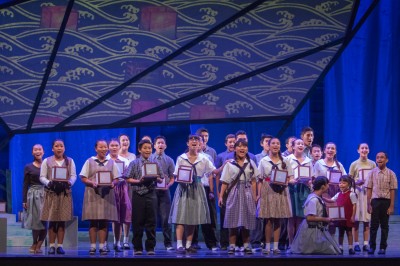 Sadako hoped for a world without tragic nuclear weapons and continued to promote for world peace. This critically acclaimed musical is brought to you by the children of Ohana Arts.
Peace On Your Wings will be shown in the following schedule:
Event Time: March 12 (Sat) 11:00 a.m.-12:00 p.m., 4:00 p.m.-5:00 p.m.
Event Time: March 13 (Sun) 11:00 a.m.-12:00 p.m.
Location: Hawaii Convention Center, 3rd floor #311
Rehearsal scenes: Ohana Arts
This is Hawaiian Hongwanji Mission School. It is located along the Pali Highway across the mountains that directed toward Kailua from Waikiki.
The children from Ohana Arts are rehearsing for the musical in this location.
Ohana Arts is consisted of executive and co-artistic director, Jenny Taira, her sister, Cari Taira, who is a stage director with approximately 25 students in the age range of 7 to 16.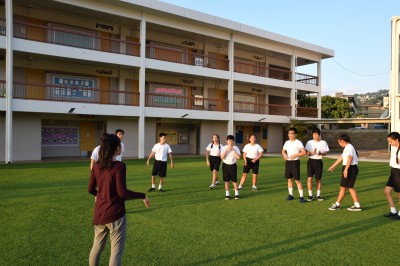 They are rehearsing for the Ekiden scene which was done on the school yard just before the sunset.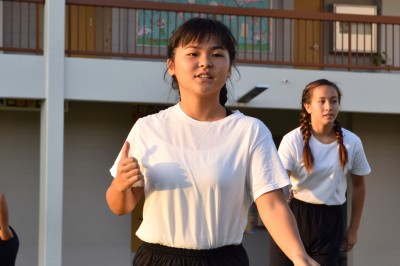 Shana Yasunaga, who is 14 years old will be playing the main character Sadako Sasaki.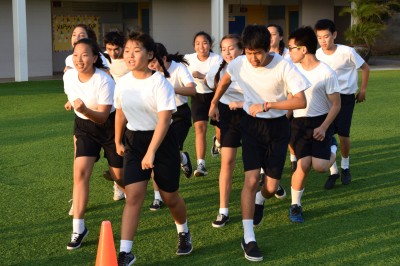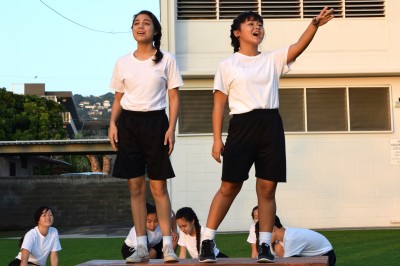 The innocent singing voices of the children echoed through the sky along with their cheerful smiles. Sometimes, they acted vigorously and energetically. At times they acted gently and calmly. Every movement depicted a childlike impression which was adorable.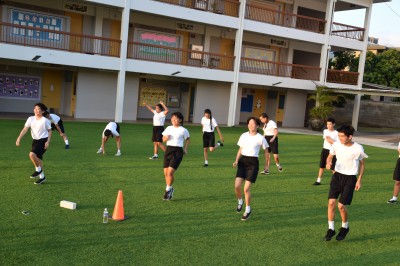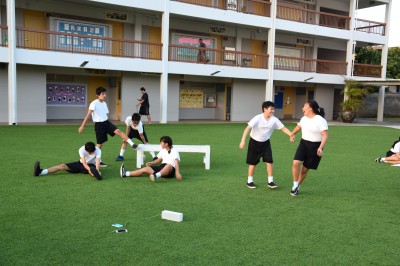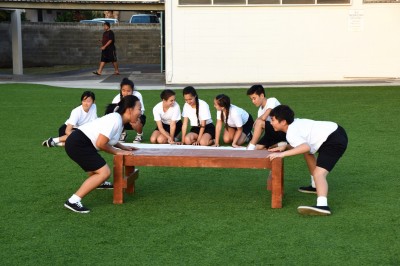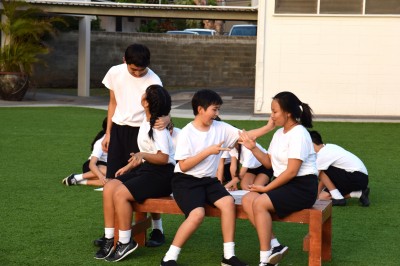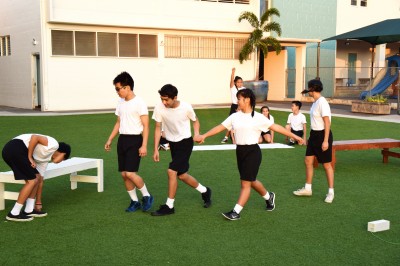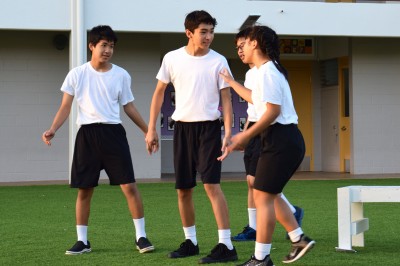 The scenes looked very natural and the children were having so much fun… In fact, they make you forget that they were actually acting…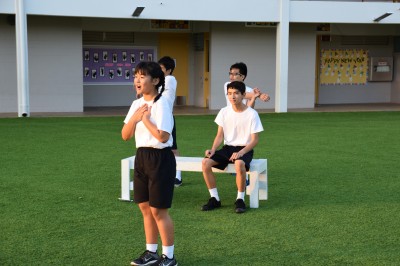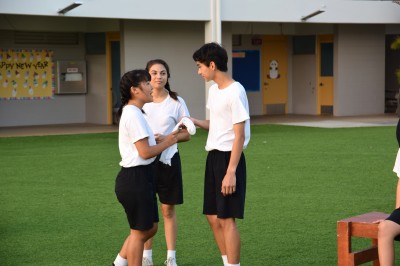 It seemed like I was actually seeing Sadako Sasaki back in the days. I was captivated which felt like I was watching a marvelous illusion through a viewfinder on the camera.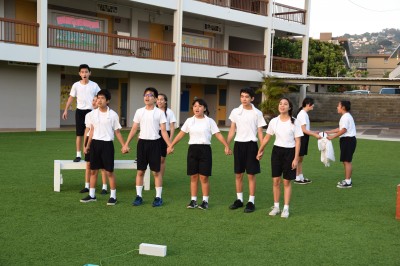 There were scenes that made me feel like I was taking my life for granted. I wonder how would you feel after you've witnessed such scenes.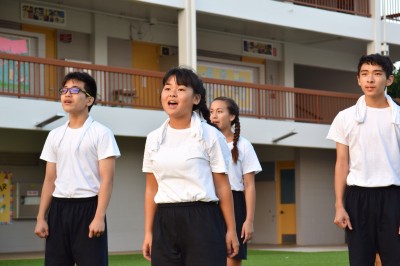 Interview: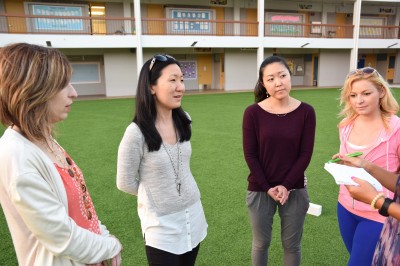 (Center left: Jenny, Center right: Cari)
●How did you know about Sadako Sasaki?
Jenny:I have read a story about her when I was in elementary school. Also, I have been to Hiroshima before and visited Hiroshima Peace Memorial Park Museum. I have been feeling strongly about her since then.
●Why did you choose this story?
Jenny:I wanted to choose a story of young people, especially from Asian countries. Although the subject of atomic bombing is such a controversial topic, I was very drawn to the positive aspect of the story, which is about the importance of friendship and living with hope.
●What is your message to the audience through this work and performance?
Jenny: Needless to say that my message is "peace". I believe that we should live everyday as if it's our last. I think this philosophy relates to the teachings of Buddha.
●What do you feel when you perform? What is the difficult part?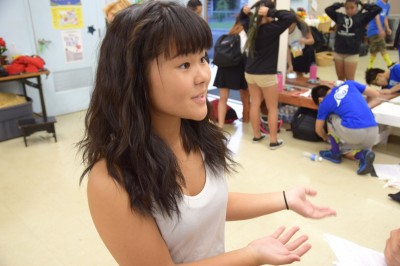 Shana:Sadako san is a very interesting person who was very powerful and optimistic. I can feel her energy while I'm playing her role. I am very grateful that I was given this opportunity. Personally, the most difficult part is to completely internalize the character. Whenever I come to the rehearsal, I forget the life of my own and try to become like Sadako san who had the positive mindset.
During the interview, Shana seemed more mature than when she was playing her role. She has the presence of a great actress.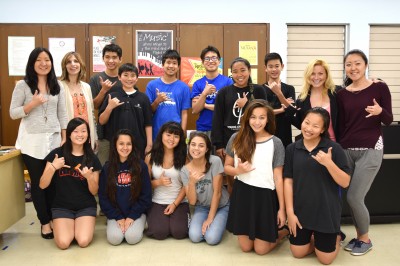 (Picture- After the rehearsal: Ohana Arts members with great teamwork skills)
Every member will strive to perform cheerfully and lively with prayer for peace!
Please do not miss it!
Peace On Your Wings is the most highlighted event of this year's Honolulu Festival, which symbolizes the importance of life and focus on the theme of peace.
Event Time:
March 12 (Sat) 11:00 a.m.-12:00 p.m., 4:00 p.m.-5:00 p.m.
March 13 (Sun) 11:00 a.m.-12:00 p.m.
Location:
Hawaii Convention Center, 3rd floor #311
The story is composed exclusively with each selected scene from the original musical for the 22nd Annual Honolulu Festival.
Please come to see this inspirational musical. The admission is free.