The Ohana Award was followed by the Friendship Party, an enormously popular event. The guests were treated with live entertainment by Hawaii's top artists as well as nine different savory dishes, provided by prominent local restaurants.
The program also included participating group performances, providing an opportunity to socialize and cultivate friendships among the participating groups and local people.
The proceeds from the Friendship Party will be used to provide excellent educational programs that benefit local young people, increasing their understanding and aware-ness of international affairs.
---
-The 24th Honolulu Festival, Friendship Party Began!-
---
At the door, guests were welcomed by the enthusiastic Osaka Gakuin University Cheerleaders, a great icebreaker for an exciting event. The exhibition hall was soon packed with people; 1,300 people attended this year's Friendship Party.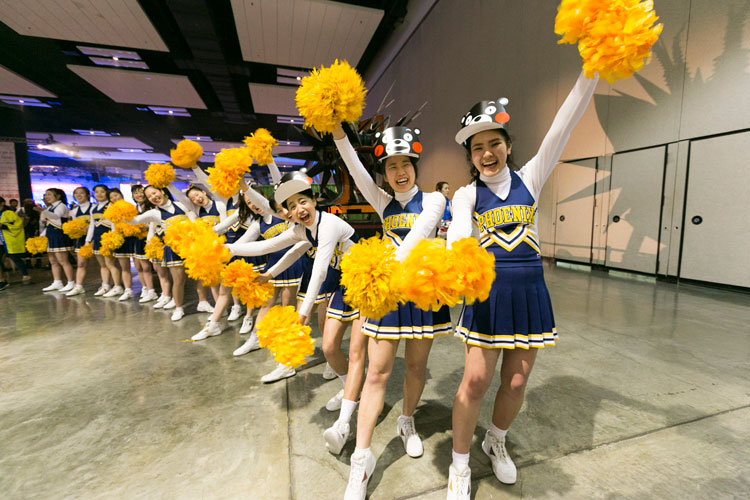 ---
-Introducing The Dishes by Nine Restaurants!-
---
Chefs from nine popular local restaurants prepared their specialty menu.
①Artizen by MW
The Hawaii regional cuisine restaurant promotes the concept of "locally grown for local consumption." Guests enjoyed the innovative and contemporary Asian taste of, Jidori Chicken Stew with Black Pepper Gravy.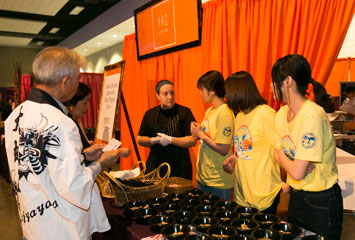 ②Eating House 1849 Waikiki
Eating House 1849 was established first in Kauai by the award-winning chef, Roy Yamaguchi, using locally grown products. Ginger Lemongrass Chicken Congee is one of their original dishes, using locally grown products.

③Nico's Pier 38
Nico's Pier 38, a stylish and relaxed restaurant is located right at the Honolulu Harbor, and features fresh fish bought every day at the Honolulu auction. They served Mini poke Bowls.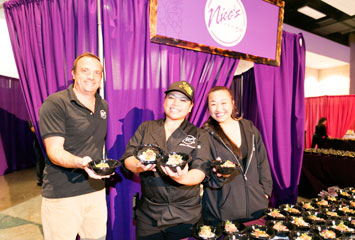 ④Chef Chai
One of Hawaii's premier chefs, Chef Chai, produced Fresh Ahi & Salmon Poke Dip with Toasted Sesame Seed & Crostini, an intricate blending of Eastern and Western flavors.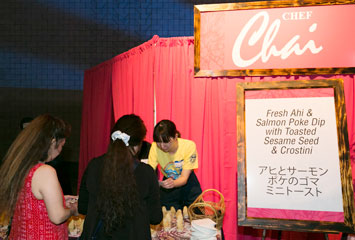 ⑤12th Ave Grill
12 Ave Grill, a highly popular restaurant in Kaimuki, especially among the health-conscious locals, and is known for its cuisine made from local fresh organic products. They showcased Maui Cattle Company Beef Tataki.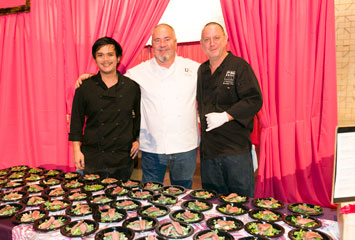 ⑥Stripsteak Waikiki
The steakhouse, owned by Chef Micheal Mina, a recipient of one Michelin star and other prestigious awards, served Instant Bacon.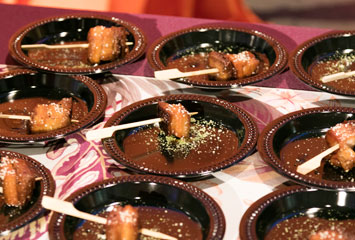 ⑦EAT Honolulu
EAT Honolulu is a unique catering restaurant, known for its original cuisine. They served a beautifully prepared Vegetarian Meal.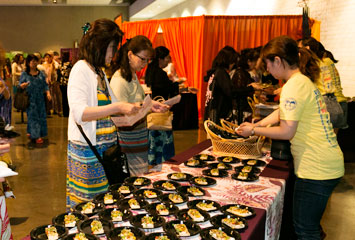 ⑧Halekulani
For the past 100 years since its establishment in 1917, the prestigious Halekulani Hotel has been serving the guests with supreme hospitality. They brought Steamed Pork belly Buns.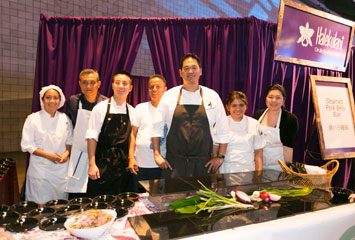 ⑨Honolulu Coffee Company
Honolulu Coffee Company is rated, by its customers, the best coffee shop in Hawaii that serves the high-quality Kona coffee. They provided Rangpur Coconut Panna Cotta.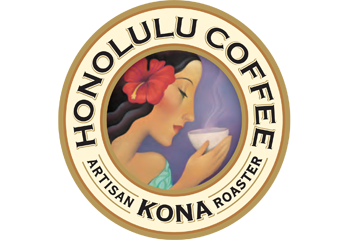 The guests enjoyed a variety of original dishes, prepared exclusively for the event. Every food booth drew crowds, who wished to try the special flavors.
---
-Entertainment Begins!-
---
The Keiki Tahitian group, "Royal Polynesians" opened the program. This group is led by Kumu Tunui, an authority in Polynesian dance. The children danced very dynamically and confidently.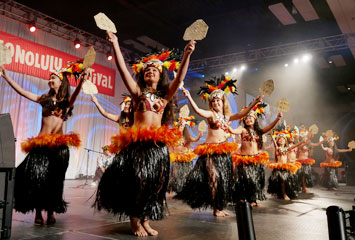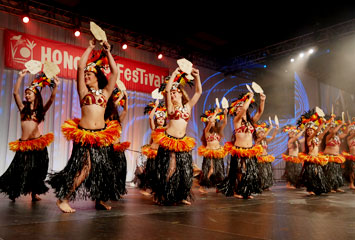 Following the Award Ceremony, Kei Segawa served as the master of ceremony. Her English-speaking co-emcee was Okinawa-born David Lancaster.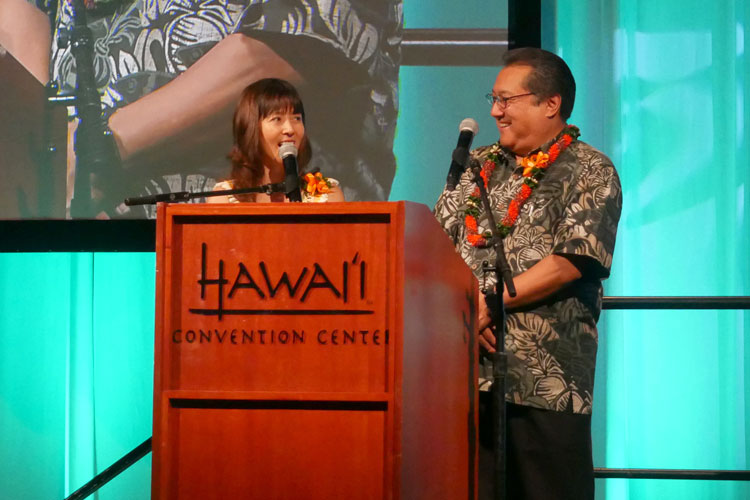 Mr. Tsukasa Harufuku, the Honolulu Festival Foundation President, opened with a few words, "We would like to welcome the people from Japan to the 24th Honolulu Festival. We wish that you will enjoy the evening."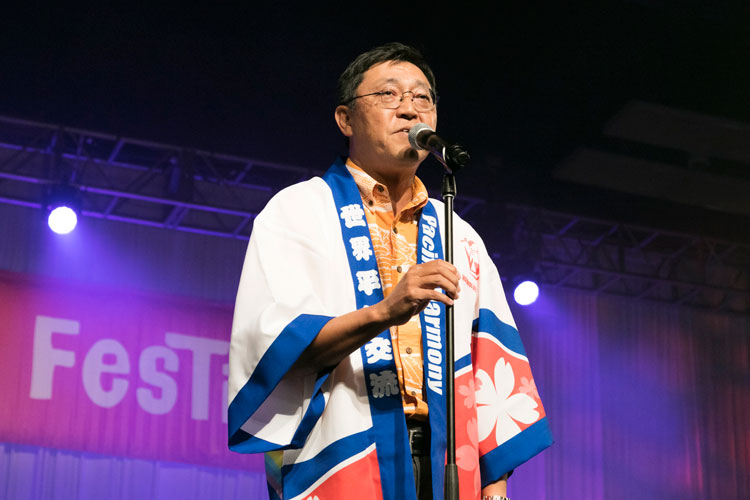 The following speaker was Mr. Hiroyuki Hirose, Executive Director of the Nagaoka Fireworks Foundation, the sponsor of the Nagaoka Fireworks on the final day of the Honolulu Festival. Mr. Hirose stated, "In 2014, Nagaoka and Honolulu became sister cities. This year marks the 7th anniversary since the Nagaoka Fireworks started in Honolulu. We launch the Nagaoka Fireworks with our prayers for world peace. We hope, through this event in Honolulu, the message of pursuing permanent peace will be sent out to the world. Please come and join our annual Nagaoka Fireworks in Japan. It will be held in August."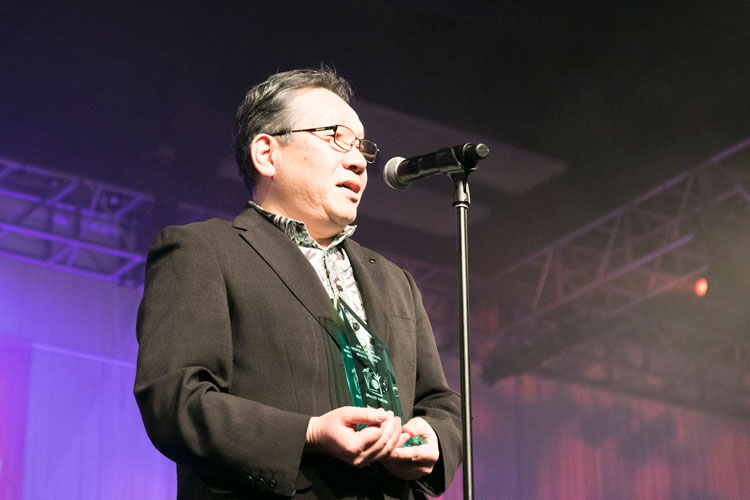 Mr. Mike McCartney, chief of staff for the State of Hawaii, addressed, "Aloha! On behalf of the Governor of the State of Hawaii, David Ige, it is my pleasure to welcome you. Congratulations to this year's Honolulu Festival. The Friendship Party embodies this year's theme – "Peace and Harmony." Each of us has an obligation to advance peace and harmony, and to make this world a more peaceful place to live. I believe that peace efforts begin here in Hawaii."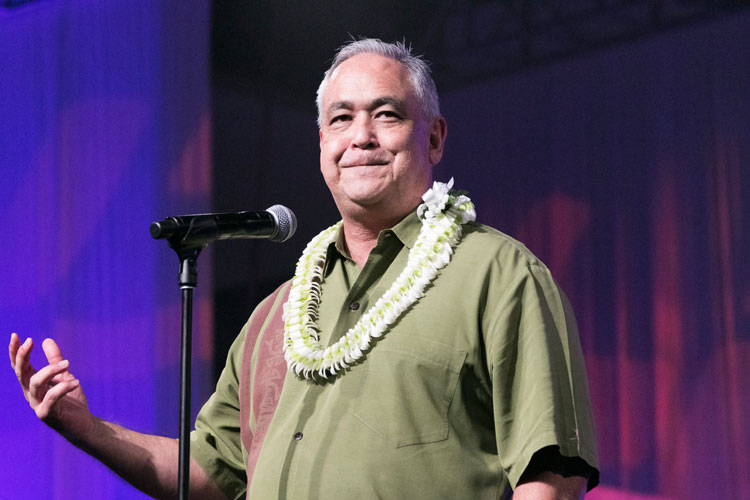 Finally, Mr. Roy Amemiya, Deputy Mayor of the city of Honolulu, also made remarks, "On behalf of Mayor Caldwell, it is my pleasure to welcome you all. We are truly grateful to the sponsors and co-sponsors for their support. Hawaii is made up of beautiful islands. Please extend your visit to other islands in addition to Oahu. You will encounter the aloha spirit in all of these places. We hope you enjoy the program."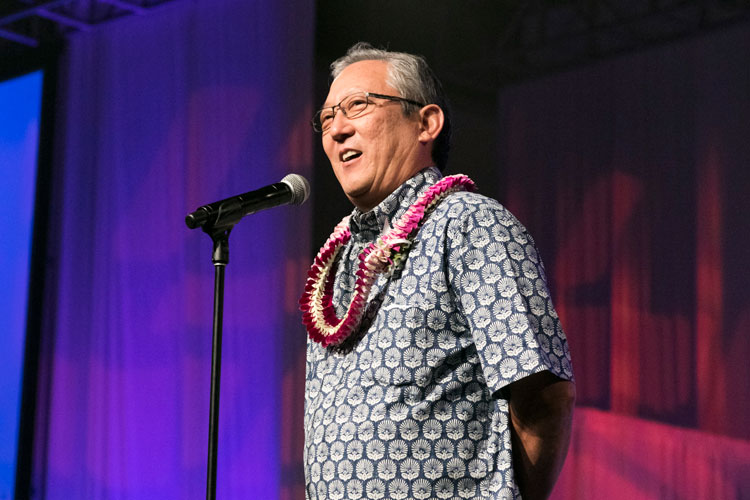 The Issei (first generation Japanese-Americans) through sansei (third generation Japanese-Americans) from Brazil and Peru gathered at this year's Festival for cultural exchange with Japanese Americans in Hawaii.
This year marks the 150th anniversary of the arrival of Japanese immigrants to Hawaii as well as the 110th anniversary of the arrival of Japanese immigrants to Brazil. The members from UJSH (United Japanese Society of Hawaii) joined the event in order to deepen the relationships between Japanese immigrants in Hawaii and Brazil. A video was played portraying the respective histories of Japanese immigration to Hawaii and Brazil.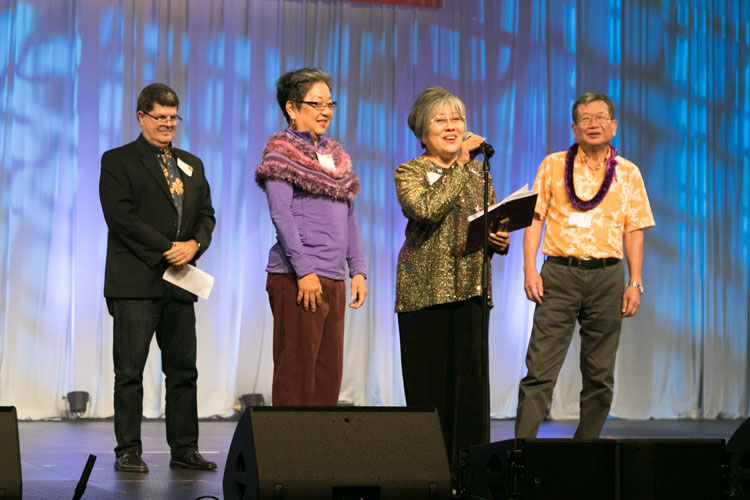 Following is the list of entertainers.
Sakurakomachi Japanese Music and Dance Group
Consisting of all female members, this orchestra group, travels worldwide, performing a wide variety of musical genres, from Japanese classics to modern popular numbers. They perform with traditional Japanese musical instruments: koto, shakuhachi, Tsugaru-shamisen, shinobue, and wadaiko.
A dynamic Tsugaru-shamisen solo performance was followed by beautiful shinobue tunes and powerful wadaiko drumming. At the finale, koto joined the ensemble and they played and sang "Sakura, Sakura." It captivated the audience.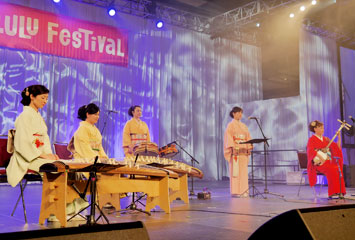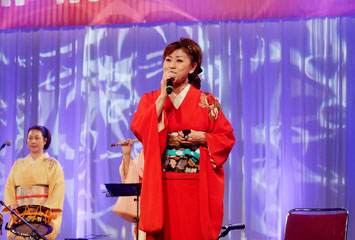 Tunui's Royal Polynesians
The next performance was Keiki hula, led by Kumu Tunui, who has over 40 years experience teaching hula at his renowned halau. This halau has been performing at Disneyland since 2009. The audience could not resist the cuteness of the child dancers.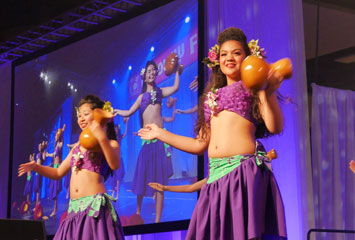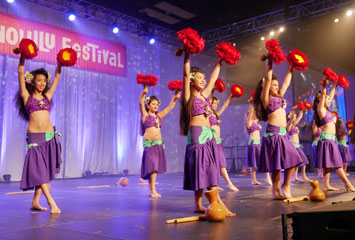 UnBijou
UnBijou is a Japan top trio dancer unit. Coming from different dance backgrounds, Yumi, Miwa, and Yume successfully created a powerful fusion of diverse dance styles, fascinating the audience.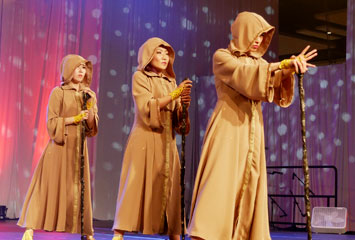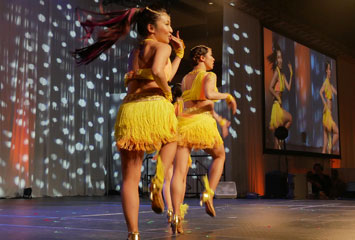 THE FUTURE
"The Future" won the Special Recognition Award in the18-years and below category at last year's Aloha Dance Competition. This year, three girls and two boys made up the group. Their dance was full of youthful vitality.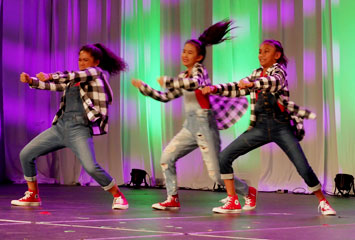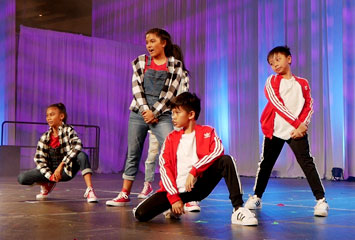 Keauhou
Keauhou is a young Hawaiian band whose debut album received nine awards at the 2017 Na Hoku Hanohano Awards, Hawaii's equivalent of the Grammy Awards. The young trio performed beautifully harmonized traditional Hawaiian music, charming the audience. The members are also researchers respectively in the fields of Hawaiian language, Education, and Ethnomusicology.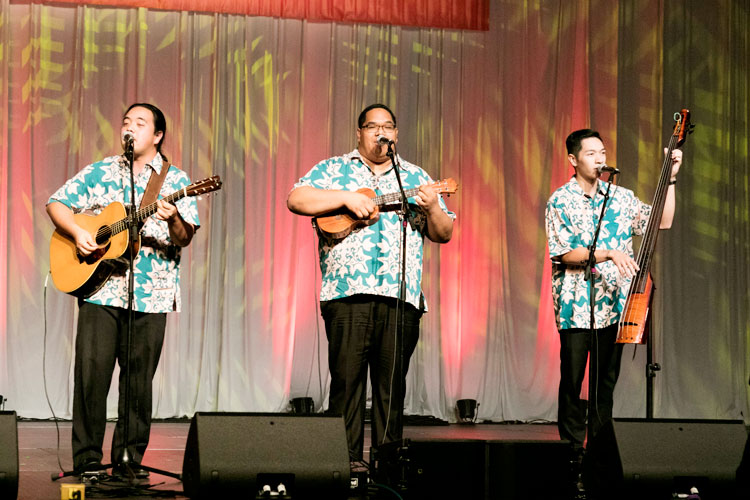 Ryukyu Koten Afuso-ryu Ongaku Kenkyuu Hawaii Choichi Kai
The last appearance was Ryukyu Koten Afuso-ryu Ongaku Kenkyuu Hawaii Choichi Kai. It is a music society, comprised of more than 4,000 members from 40 clubs of
the Hawaii United Okinawa Association. The program ended with a climactic moment when the President of the Honolulu Festival Foundation, tourism ambassadors, cheerleaders, and volunteers all came up on stage and danced Kachāshī (Okinawan dance with hand motions).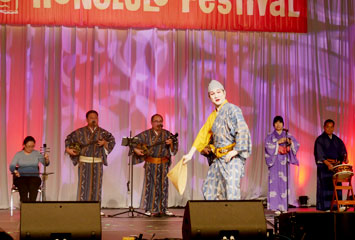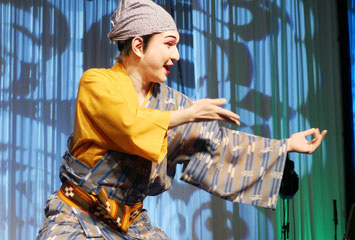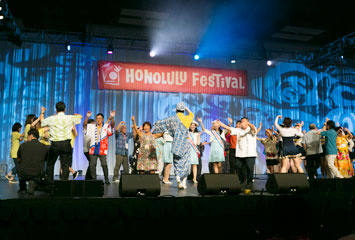 The Friendship Party seeks to build international goodwill relationships among people in Japan, Hawaii and the Pacific regions.
The Honolulu Festival will continue its efforts to prompt waves of cultural exchange beyond diverse ethnic and generational backgrounds. It also seeks to strengthen goodwill relationships not only between Japan and Hawaii, but also between Japan and Pacific Rim countries, playing a part in accomplishing world peace.