The Ohana Award is presented by the Honolulu Festival to participating organizations recognition of their contribution to the Honolulu Festival for many years. On the evening of Friday, March 8th, the award ceremony for the Ohana Award was held at the Hawaii Convention Center and many people from Japan and the Asia-Pacific Rim participated the ceremony. At the beginning, the President of Honolulu Festival Foundation, Tsukasa Fukufuku, greeted and expressed his appreciation to the winners for their support over the years.
The following are the award-winning organizations.
---
Participating organizations of the 25th Honolulu Festival Ohana Award
---
Lahainaluna High School (14)
Komazawa Women's University (volunteer participation) (7)
Kobe Shoin Women's University (volunteer participation) (5)
Kokualoha(3)
On the stage, all the group representatives received trophies with big smiles.
And it was Yasuko Shimizu and Her Fellow Singers (21) who won the most participation award!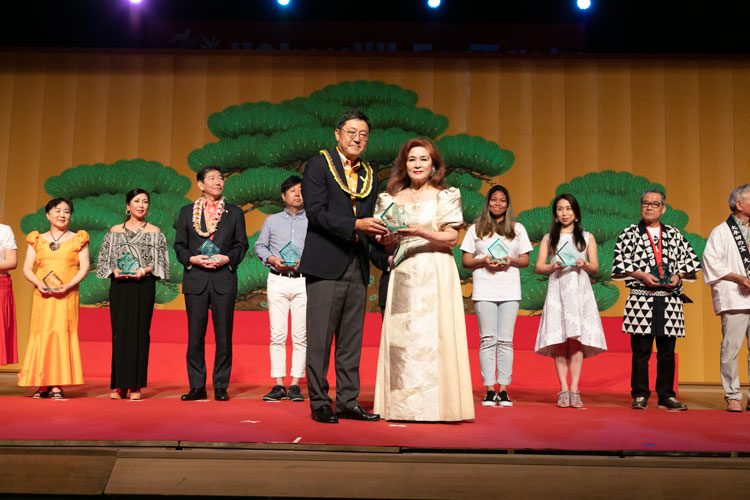 A group photo was taken with all the group representatives who attended the award ceremony. The ceremony was filled with a big round of applause. Congratulations to all the winners. Let's continue to liven up the Honolulu Festival together.
We look forward to your wonderful performance next year.