Kamehameha High School Maui Campus
Interview with Mr. Kealii Mossman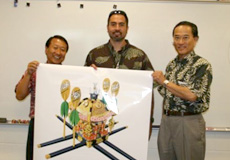 Mr. Kealii Mossman teaches in the Bussiness and Leadership Academy at Kamehameha Schools Maui. He used to be a prosecutor in which he saw youth constantly committing the same crimes. Then he thought it is important to lead to the right path before it is too late, so he changed his career to become a high school teacher. We would like to applaud him for his contribution to our communities in Hawaii.