The students of Kamehameha Schools Maui won the 5th annual Maui Mikoshi Design Contest for the second time since last year. Their mikoshi was designed under the theme of "Experience the Wonder". Many of the students were from Hawaii, Fiji, Tahiti, Samoa, Tonga, China, Philippines and Japan, which seemed like they were connected by the Pacific Ocean.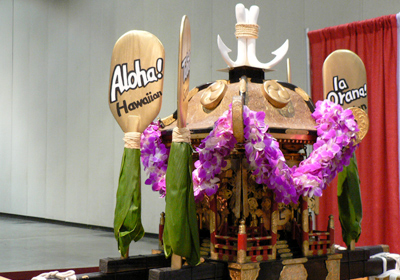 The design of the mikoshi consisted of 2 golden canoe paddles standing on the right and left side which there were 4 paddles in total. Also, various greetings were written in the language of the Asia-Pacific countries including Hawaiian, Fiji, Tahitian, Chinese and Japanese on each side of the paddle. In addition, the mikoshi was decorated with Hawaiian leis, which looked as if they were welcoming those greetings by the Asia-Pacific countries.
The students of Kamehameha Schools Maui received the Honolulu Festival's original happi which they wore and took a group picture.