Grand Parade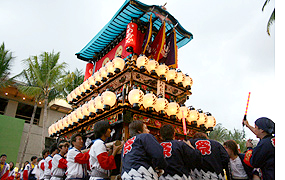 The Grand Parade was held on Kalakaua Avenue in Waikiki on the final day of the Honolulu Festival on Sunday, March 11.
Many spectators gathered under the bright sun before the parade began and the roadside was packed.
The parade was led by Mr. Mufi Hannemann, who is the Mayor of Honolulu. Then, next appearance was Miss Korea followed by the local marching band. Each participating group performed their best.
Furthermore, the spectators have their own way of enjoying the parade. For instance, there were people who were shaking hands with the performers out of appreciation. Also, there were people who were watching the parade from the hotel room. Some were recording the scenes on camera and video.
Last appearance was Saijo Iwaoka Danjiri from Ehime Prefecture. A lot of members carried a big mikoshi. Their performance was filled with dynamism and passion which excited the night of Waikiki.