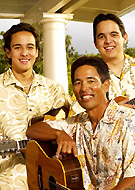 Manoa DNA is a new popular family band in Hawaii. DNA is an acronym for Dad (LLoyd Kawakami), Nick (son), Alex (son). One of their songs Discover Aloha With Me was used for the TV commercial of the campaign "So Much More Hawaii" run by the Hawaii Tourism Authority in 2008. [ See more ]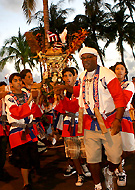 The Maui Mikoshi Contest is part of Honolulu Festival's educational program offered for high school students in Maui. This year's winning school was Kamehameha Schools Maui which won for the 3rd time.
The students of Kamehameha Schools Maui designed their mikoshi under the theme of this year's Honolulu Festival "Experience the Wonder". [ See more ]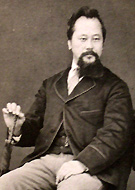 The theme of this year's seminar is "The First Japanese U.S. Citizen: Joseph Heco and the Beginning of the U.S.-Japan Relations". We will be introducing the life of Hikozo Hamada as known as Joseph Heco. Also, we will be inviting special guests to have a discussion on how Heco contributed to relations between the U.S. and Japan. He was the one who wrecked his boat in the U.S. and contributed to modernize Japan during the end of Edo period 150 years ago. Please come and attend our seminar.   
[ See more ] [ Joseph Heco Story ]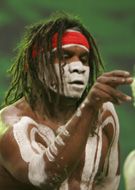 Descendance from Australia will be participating for the 4th time at this year's Honolulu Festival. This group will be performing the Australian Aboriginal dance.        [ See more ]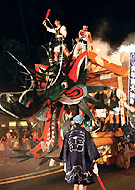 The powerful Daijayama changed its name to the Honolulu Daijayama and once again it will be appearing at the Grand Parade. Please watch and enjoy their compelling performance on the last day of the Honolulu Festival. [ See more ]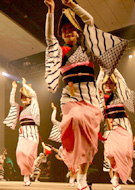 There are over 900 registered teams of Awa-Odori. Among those 70 teams are active throughout the year. The Honolulu Festival Foundation is much honored to invite Tonosama Ren from Tokushima. This group has been active since 1951 which their strong and exciting dancing performance is a must-see. [ See more ]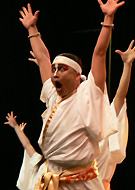 The Honolulu Festival Foundation is very pleased to have Sugaizanairen, the exciting yosakoi dancing team from Kochi Prefecture for the 14th consecutive time. For 25 years, Ms. Kunitomo Suga, the founder of Sugaizanairen has been active in promoting love and world peace through her dance which includes forms of traditional yosakoi, aerobics, jazz and hip-hop. [ See more ]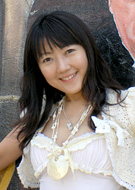 Haruko Momoi adored as "Halko" by her fans will be performing at the 14th Annual Honolulu Festival. She is very famous as a voice actress as well as a singer songwriter in Japan. [ See more ]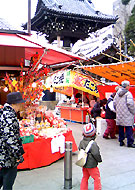 The Ennichi Corner will be held at the 14th Annual Honolulu Festival. " You can get to experience goldfish scooping, yo-yo fishing origami (paper-folding), Kamishibai (Picture Card Theater). Also, you can experience wearing a yukata. We also offer cotton candies and masks similarly to Ennichi in Japan.
"Ennichi" refers to a special day for the Japanese to celebrate their relation with a particular deity. [ See More ]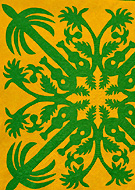 We will be focusing on Mr. John Serrao, who is a famous Hawaiian quilter in Oahu that offers the Hawaiian quilting class called Poakalani & Co.
The Hawaii Quilt Exhibition will be held at the Hawaii Convention Center on March 15 and March 16. There will be over 60 Hawaiian quilts created by the students of Poakalani & Co. Also, there will be demonstration of quilting and workshop.              [ See more ]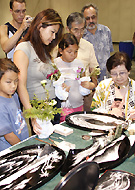 The booths will be run by over 100 vendors from Hawaii as well as in Japan at the Craft Fair. The Japanese culture such as origami and ikebana (flower arrangement) will be introduced which you can also have hands-on activities. [ See more ]